Success Stories
Datatron Delivering Value & Generating ROI for Enterprise Clients & Partners
Domino's Seeks Solution to AI/ML Logjam - Get's Much, Much More With Datatron
Domino's experienced the typical challenges of growing a nascent AI/ML program – slow model rollout due to repetitive, manual, & highly customized configurations, incompatibility between traditional software DevOps and MLOps, and challenging workflows between teams and different business units. Not to mention requirements from the "Risk & Compliance" teams.
Beyond improving their AI/ML workflow, Domino's reaped numerous benefits after implementing Datatron as their MLOps and AI Governance platform, including:
10x'd model deployment with existing resources – delivering more business value across the enterprise
Avoiding replicating headcount bloat & redundancy across different BUs to support AI
Quicker time to ROI for models (optimal store staffing, delivery routing, localized fees)
get success story
Watch the MLOps Webinar
"Key Strategies Enterprises Can Implement Today to be Successful in AI"
Hear directly from Domino's Data Science lead on how they leverage MLOps to multiply AI/ML use cases within their organization.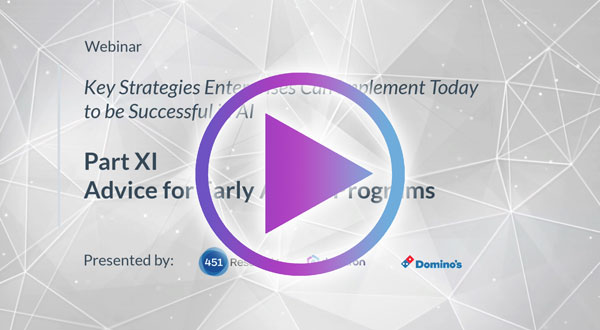 It's challenging to manage models, especially when there is a high rate of model growth each year. With Datatron, we were able to scale, manage and monitor all of our models on one centralized platform.
Zack Frogoso, Data Science & AI Manager, Dominos Pizza ​
---
With Datatron, Domino's Achieved:
5

x

Productivity
Improvement
80

%

More Risk-Free Model
Deployments
10

X

Model Deployment
Velocity
get the success story