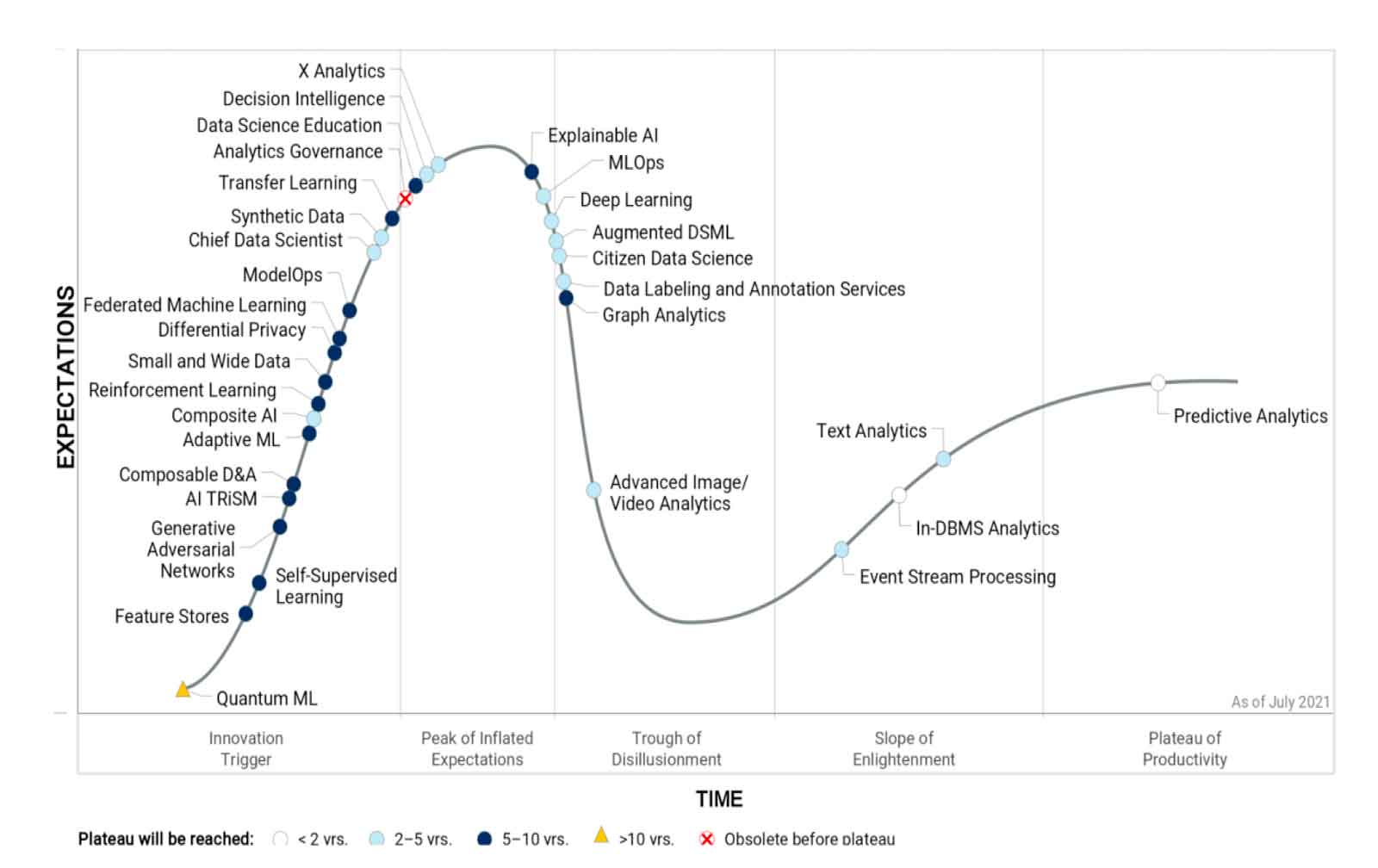 Gartner Mentions Datatron in Three Hype Cycles in 2021
Datatron has been named in three of Gartner's Hype Cycles for 2021, along with four of their AI innovation insight publications. Datatron is a tool that helps operationalize machine learning workflows. The platform's expanded capabilities for model management and model monitoring, as well as its ability to link and support multiple DSML platforms, were recognized by Gartner. This recognition came as a result of the platform's industry-standard methodology and consistent, high-quality service delivery.
While this nascent industry is a flurry of AI/ML model monitoring and governance upstarts, Datatron is one of just three companies with enterprise clients in production. Datatron's founder was an early team member who was instrumental in the development of the model for "Surge" pricing at Lyft and Stories at SnapChat, in addition to being early at Twitter. This expertise from the trenches of AI/Ml translates into having solved many known ModelOps problems, and many that enterprise organizations are struggling to solve.
All of this experience in enterprise production environments formed Datatron's 3-pillar approach of operationalizing AI reliably:
ModelOps – Software DevOps and AI/ML DevOps are different. Understand what makes them different and create a process that respects this difference.

AI Monitoring & AI Governance – Always plan for bias, drift, and anomalies. Be conversant with what your models are doing.

Enterprise-Ready – Model catalog, User Access Control, and dashboard displaying performance and model health records. Mature your AI/ML program with one decision.
Datatron is Reliable™ AI.
What is the Gartner Hype Cycle
The Hype Cycle represents the maturity, business value, and future direction of specific technologies or products. These periodicals from the world's leading information technology research and advisory company cover a variety of technologies, including artificial intelligence (AI), blockchain, analytics, big data, and cloud computing. Hype Cycles are used by many organizations as a way of identifying emerging trends across different technology areas, as well as being able to plan for those.
Datatron featured publications for the 2021 round of Gartner Hype Cycles
One of the latest additions to the Gartner Hype Cycle for Emerging Technologies, the Hype Cycle for Data Science, and the Hype Cycle for Machine Learning 2021, provides insight into emerging trends in data science and machine learning (DSML) that can be used to help inform decision-making. The report aims to help organizations understand how digitization is accelerating the need for experimental data science and machine learning initiatives, and what evolving trends are supporting the productization of these technologies to support business outcomes.
The Hype Cycle for Financial Analytics 2021 report provides financial planners and analysts with an assessment of the maturity, adoption, and future direction of financial analytics. Financial planning and analysis leaders use this publication to evaluate how accelerated analytics innovation drives change and which innovations are most applicable to their business.
The Hype Cycle for Hybrid Infrastructure Services 2021 shows how IT and non-IT vendors are developing new services and solutions that can be combined to help enterprises address their hybrid IT needs. Sourcing, procurement, and vendor management (SPVM) leaders can use this Hype Cycle to assess the maturity of emerging IT services and solutions to plan their hybrid infrastructure services strategy. The graphic reflects the importance of having a strategic approach to sourcing, procurement, and vendor management practices as they evolve from traditional architectures towards a hybrid environment.
Datatron – Built for Efficient ModelOps
Datatron is a cloud or on-premise platform for AI and ML model operationalization, monitoring, and governance. Customers use Datatron to make their AI and ML models actionable, performant, and compliant targeting the real-world challenges of deploying and governing ML models in production. Datatron gives you the power to deploy any model on an easy-to-use platform, operationalize it for reliable delivery in production through reliable MLOps technology, and govern it to catch bias, drift, and anomalies.
Datatron's MLOps platform provides a robust and secure platform to operationalize and monitor all your AI and machine learning models, and allows enterprises to run mission-critical ML models in production while meeting all necessary integration, monitoring, and security requirements.
Datatron's solution uniquely addresses all four key challenges of AI and ML model operationalization:
1) Performance: Performance at scale has been a major challenge with most existing solutions. Datatron's distributed platform offers an order of magnitude improvement in latency and throughput – achieved by running models on high-performance GPU servers
2) Integration: The deployment of models into production environments causes significant friction without the proper tooling. Datatron provides seamless integration with your existing applications and tools such as databases, NoSQL stores, message queues etc., so you can configure your ML models with ease
3) Monitoring: Running models at scale requires robust monitoring capabilities across the stack – from the model itself to the underlying infrastructure. Datatron monitors all aspects of your model's performance and ensures it stays within SLAs & SLOs
4) Security: Datatron is designed based on industry-standard data security guidelines. Your software and data are guaranteed the utmost level of protection. Also, enterprises need compliance, risk, and data protections to support corporate and governmental regulations. Datatron was built with a focus on AI governance policies.
In addition, Datatron also provides a comprehensive set of cognitive features explicitly designed for managing an enterprise's growing fleet of ML models.
Gartner does not endorse any vendor, product or service depicted in its research publications and does not advise technology users to select only those vendors with the highest ratings or other designation. Gartner research publications consist of the opinions of Gartner's research organization and should not be construed as statements of fact. Gartner disclaims all warranties, expressed or implied, with respect to this research, including any warranties of merchantability or fitness for a particular purpose.