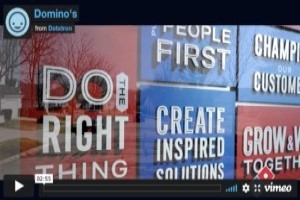 Domino's Takes Data to the Next Level
Many companies today talk about leveraging data or being data driven, but Domino's is one company that is truly putting these words into action. The Domino's data science team is using artificial intelligence (AI)/machine learning (ML) models to completely revolutionize the company at its core.
Domino's data science team provides the company with a modeled view into the future state of its markets, providing actionable guidance on store placement and staffing. The data science team is leveraging AI/ML models to improve in-store operations, discover untapped revenue sources, and most importantly, continually improve the customer experience.
Putting Models to Work
Domino's data science team is able to accomplish these goals, and more, by taking a comprehensive, strategic approach to ML operations (MLOps), ensuring that the team can always measure the performance of every model to maintain continuous improvement in a virtuous cycle. This involves systematically refreshing the models with new data as the ground truth changes. By taking such an approach, the data science team is able to deliver significant, tangible results to the business.
In this short video, watch as Domino's explains the many benefits that the data science team is bringing to the company:
Datatron, provides an enterprise-grade platform that helps data-driven organizations supervise Machine Learning models for high-precision deployment to meet regulatory requirements and effectively manage the entire production machine learning life cycle.
To learn more about Datatron, Book a Demo