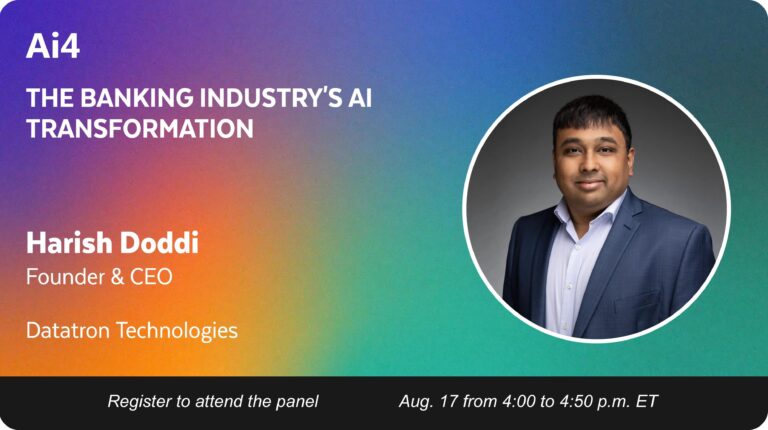 Datatron CEO Harish Doddi speaking at Ai4 2021 panel on AI across industries
Datatron CEO and founder Harish Doddi is joining an impressive roster of data science and financial services experts next week for a deep dive into how AI is transforming the banking industry. He'll be participating a panel discussion titled "The Banking Industry's AI Transformation," as part of the Ai4 2021 conference: Exploring Artificial Intelligence Across Industry.
Registration to attend the virtual panel on Tuesday, Aug. 17 from 4:00 to 4:50 p.m. ET is free. To sign up: https://ai4.io/2021/application-attendee/.
Doddi and his fellow panelists will discuss how AI is shifting the technological skillset within banks in dramatic ways, especially as we move from Q3 into Q4, and what's top of mind for banks as they increasingly adopt AI-driven technologies. This will include looking at how AI is making an impact across everything from risk management to customer engagement to lending, and the challenges they're facing along the way.
Doddi will be joined by panelists Prashant Dhingra, managing director at JP Morgan Chase; Rashu Garg, senior vice president, head of analytics and data products, Regions Bank; Ryan McQueen, head of product, DeepSee.ai; and Marina Kaganovich, head of U.S. CIB Digital Compliance, BNP Paribas.
The topic of how AI is impacting the world of banking is near and dear to our hearts. Datatron provides an enterprise-grade, cloud-native Reliable AI™ platform that enables businesses with a large and diverse data science organization – including financial institutions, telecommunication companies and retailers – to easily, accurately and rapidly operationalize AI models in production.
That's precisely what we did for a major financial institution that makes buy-sell predictions for government bonds. This customer wanted to optimize their predictive capabilities, and to do this, they needed a platform that would natively support lambda architecture and could deploy and manage different machine learning models built with a variety of frameworks.
This enterprise needed a standardized monitoring system that would alert for model performance issues and trigger the automatic retraining of models, in production. They also needed a way to automate model functions for scale.
Datatron provided this major financial institution with a framework-agnostic, productionized machine learning platform that supports both historical and real-time data features and provides monitoring for models. Now, executives can get a global view of the state of the predictive models, which helps them understand the KPI metrics they have achieved.